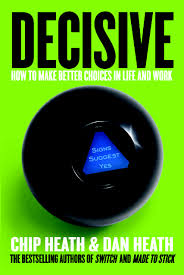 Been on a book binge lately (lots of time in airplanes) and probably my favorite of the bunch was Decisive by Chip and Dan Heath. Been a big fan of the Heath brothers books Made to Stick and Switch, and Decisive is just as good.
Decisive is all about how to overcome the biases we have and our irrational choices so we cane make good decisions. The Heath brothers always make their books fascinating to read, with incredible research and interesting examples. And in Decisive they provide a practical four step process for better decision making. In fact, it's so practical we had our entire staff reading the book, and are going to use the process to deal with some issues we're facing.
The book would be phenomenal for your team, or for you personally. I'm actually going to have both of my kids read it before they graduate from high school.
And … you're welcome.