About The Book
Everyone is trying to change the world. Whether it's bringing justice to Darfur, fighting global warming, building schools, or rebuilding cities, people are flocking to causes bigger than themselves. They're dissatisfied with the status quo and sacrificing time and money to change it. God's people should be at the forefront of this movement. But we're not.
Author and pastor Vince Antonucci challenges you to take part in changing the world and shows you how to do it by adopting the strategy Jesus used: becoming a guerrilla lover. Just as a small group of people who deliver surprise attacks can change the course of a war, you can change the course of love in this world. With engaging true stories of everyday guerrilla lovers, Vince will inspire you to wage war on complacency and surprise the people around you with acts of love.
"Vince Antonucci will make you laugh out loud, tug at your heart with inspiring real-life stories, and challenge you to live a daring adventure with God" --Mark Batterson, pastor of National Community Church in Washington D.C., and author of The Circle Maker
"If you are tired of a mediocre faith, Renegade will inspire you to all-in, fully surrendered, self-sacrificing faith journey with Christ" --Craig Groeschel, pastor of LifeChurch.tv and author of Soul Detox
"Vince Antonucci's writing always challenges me while making me laugh. In Renegade, he pushes all of us to live with radical faith in a radical God. Vince does more than write this story, he lives it and gives us a compelling picture for what the life of faith looks like" --Jud Wilhite, pastor of Central Christian Church in Henderson, Nevada, and author of Pursued
"If you are tired of a play-it-safe, go through the motions faith, then Renegade is exactly what you need. Authored by a guy who is a serial risk-taker, this book will have you laughing while at the same time discovering that faith was always meant to be a daring adventure! Renegade is a book for all of us who want a faith that is more than knowing what Jesus would do, but rather doing what he would do!" --Dave Ferguson, pastor of Community Christian Church and coauthor of Exponential
"The message of Renegade will teach you, entertain you, inspire you, challenge you, and convict you.  ...  My prayer is that this book starts a movement of renegades who turn the world upside down"  --Kyle Idleman, teaching pastor at Southeast Christian Church in Louisville, KY, and author of Not A Fan
Resources
Video
Printables
Messages
Graphics
Download free message graphics for your upcoming series on Guerrilla Lovers.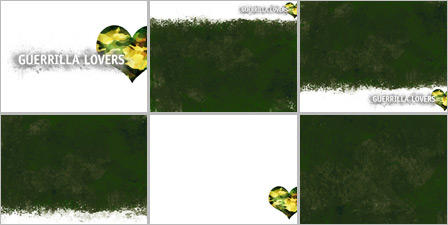 Message_Slides.zip
Sample Chapter
Download a free sample chapter of Guerrilla Lovers.